Chris Wosika has created an Online plateform called Just be Yourself https://www.justbeyourself.life/ for every woman who would like to improve her life balance exploring many ways to reach this goal. Chris has asked me to participate in this project. Please discover what she wrote:
Spring is taking its toll and although nature seems to have it under control we do need more of everything. Time, coffee (or tea…), hours, sleep, money, energy, patience, love, etc…
There are some areas we may be able to contribute, from a distance. On the energy, for example. We got you covered !
I know a very special woman, Nathalie Pidoux, an exceptional solar person. She brightens the room with her positive energy. When I discussed this "Justbeyourself" women empowering project with her, she agreed right away to participate. She has been in the healing world for a long time, lived in many countries, and her approach is all about boosting your life energy.
Nathalie Pidoux – Work and Events Massage
She shared her video of Do-In self-massage with me. A 9 minutes bliss easy self-massage lesson, to start your day on a super positive note. It's a Japanese therapeutic technique of Self-Massage that has its origins in China: the Do In which allows, through simple pressure on the meridians of his body (acupressure), to gain energy.
This video covers neck and shoulder self-massage, if you would like to see her full course ONLINE, on how to practice DO- IN self-massage from head to toe, please contact her directly here. She will give you all the details on available dates and conditions.
Self-massage brings you back in balance, whatever you're experiencing. It increases circulation, stimulates organ function, helps your body detox and improves sleep and has an anti-ageing effect.
Overall, a fantastic health prevention tool!
I know you have the energy, the strength and the willpower to ensure a great day.
Rebooting your system, getting ready for whatever the day has in for you.
You are the medicine:)
Two letters of recommandation since we are still working with all the other companies.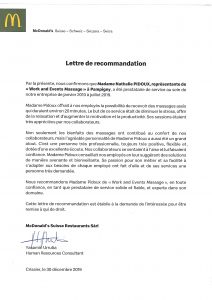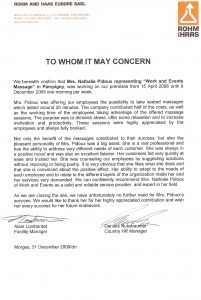 We take the opportunity to thank the companies who trust us for so many years such as la Société de la Loterie de la Suisse Romande. They have published an article few years ago about us and we share it with you.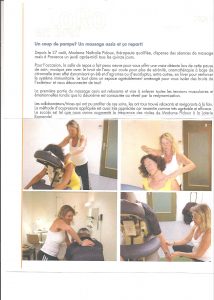 Reviews of some patients on Google My Business:
Après plus d'un an de massages assis je suis plus que satifaite des bénéfices apportés. En 20 minutes, vous repartez détendu et avec une belle énergie qui vous permet de poursuivre la journée avec sérénité. C'est une excellente pause à vous offrir sur votre lieu de travail ! Nathalie m'a également accueilli à son cabinet pour des séances d'acupuncture qui ont largement contribué à améliorer mon état de santé.
Work & Events Massage (propriétaire)
Il y a 3 heures
Merci Emilie pour votre fidélité. Je suis heureuse d'avoir pu répondre à vos attentes. J'aime m'investir auprès des patients que je traite et piocher dans mes diverses formations (naturopathie, homéopathie, Médecine traditionnelle chinoise, etc.) afin d'atteindre les objectifs de guérison /bien-être au plus vite.Au plaisir de vous revoir lors de votre prochain rendez-vous déjà fixé.
Very welcoming and positive atmosphere but more than that very effective treatment – I followed a series of acupuncture sessions and highly recommend it!! (Traduit par Google) Ambiance très accueillante et positive mais plus que ce traitement très efficace – j'ai suivi une série de séances d'acupuncture et je le recommande vivement !!
Work & Events Massage (propriétaire)
Il y a 24 semaines
Thank you for your comment. Such a pleasure to treat you and have a patient like you. See you when needed!
De loin ma meilleure expérience en la matière! Nathalie est très pédagogue et professionnelle. Tout paraît simple et surtout très efficace! Une merveilleuse expérience que je vais continuer à renouveler!
Work & Events Massage (propriétaire)
Il y a 24 semaines
Merci Safia, ce fut un grand plaisir de vous acceuillir dans mon cabinet. A bientôt!