Whatever the size of your Company, your Event will be a unique moment!
Chair Massage shiatsu during Events
The team of Work & Events Massage knows how to "boost" your Event!
We are used to working with a very dense public as well as on a smaller scale. We adapt the duration of the massage according to the number of participants.
This type of massage can be performed anywhere, on any person and on any occasion. It is aimed at both private and professional Events. We would like to point out that our Events have no border limit. Do not hesitate to contact us even if you are based abroad.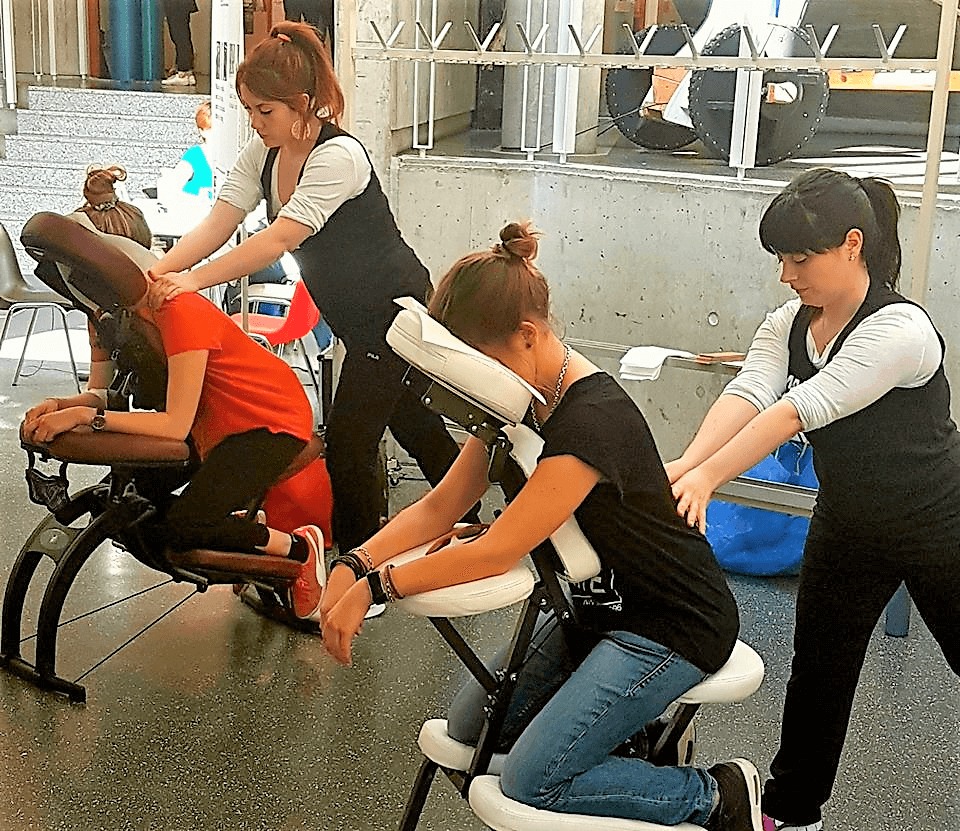 Some of the benefits of Chair Massage during your  Events
It attracts the crowd thanks to its visual aspect (choreography)
Boosts the participants and speakers of your Event and therefore allows them to be focused on a higher level. After the massage, the participants will be toned and uplifted
An original and nice souvenir to your Customers
Good way of approaching customers: during a congress for instance, you will be able to approach a potential clientele while they are queuing for their massage
Brings good vibes to your Event
Here are some examples of Events:
Seminar
Conference
Anniversary
Corporate Health Day
Fair
Product Launch
Open day
Staff day
End of year party
Sports Day: marathon, biking, Nordic walking, golf tournament, volleyball tournament, basketball tournament, etc.
Father's Day, Mother's Day
Wedding
Festival
Gala evening, etc.
Our offer
Administrative support related to the organization of Chair Massage within your event
Setting of our equipment (chair, music, etc.) and decoration (when needed) in your event venue
Aromatherapy: diffusion of essential oils (if requested)
Background music (if requested)
Linguistic coordination in French/English (Italian/German if requested)
Rates
We will be happy to send you a personalized offer according to your needs.