An original concept of acupuncture in my practise in Pampigny
(12 min. North of Morges, Vaud)
Don't be scared by the needles, it is not painful! 
Would you like to treat your ailments while relaxing?
The offer Massage-Acupuncture is designed for you!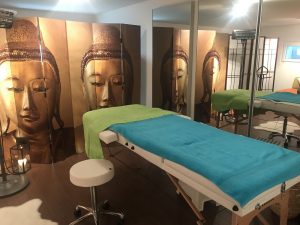 Using the acupuncture points since 2006 while practising Shiatsu Massage within companies, I also have been lucky to be trained by a master in acupuncture who studied the Traditional Chinese Acupuncture for 5 years in China. opened a practise and found that the results were not sufficient and too slow. He then decided to travel worlwide to meet the most famous acupuncture therapists (for example Dr Felix Mann) who shared "their own recipes" with him. The technique used is thus fast and very efficient: you will automatically have a cocktail of several invariable points which will stimulate the main systems of your organism (nervous system, cardiovascular, digestive, gynecological), your sleeping rythm will be regulated  your imune system will be boosted.  All the patients will receive this balancing cocktail. In addition to that, I will put more needles for the specific pathology/ies for which you have to be treated. With this unique technique designed by my master,  faster results are shown compared to the traditional acupuncture sessions that focus mainly on the pain.
Important: many patients are coming for Health Prevention without having any specific pathology. In this case they work on a Health Prevention level. In other words, you do not need to be sick for visiting me.
Have you been suffering for several days/weeks/months from a persistent pain in the back/lower back/neck or elsewhere?
The needles are usually set 2mm deep, however in the case of persistent discomfort, I will use a different technique that consists in longer needles, totally flexible, that will be set much deeper on the specific knot. After 30 minutes, the tissues (fascias) around the knot will be totally released from tensions and the knot(discomfort) will disappear. A fascinating technique!
Acupuncture is an old Chinese Medecine that consists in stimulating specific points to let the energetic flow circulate freely which will lead to healing.
What does acupuncture treat? Here are some examples of the most encountered pathologies
Migraines, headaches,
Backaches (neck, lower back)
Tobacco addiction
Sleeping problems (insomnia and somnolence)
Anxiety crisis
Digestive problems such as burning, diarrheas, etc
Knee problems
Tendonitis
Epicondylitis (tennis elbow)
Fatigue
Stress
Shoulder problems
Menaupause troubles (flashes, sleeeplessness, etc.)
Acouphenes
Side affects of chimiotherapy, etc.
Your program…
Whole relaxing body massage with oils 5-10 minutes
Needling in a relaxing atmosphere (diffusion of essential oils, relaxing music)
Price CHF 120.- (duration 1 hour)
Few comments of the patients
"Nathalie is a great listener and very sweet. I felt this sweetness as soon as I arrived as she gave me this solar smile so that I felt at ease straight ahead. After the small bodymassage where I started to let it go, she put needles all over my body to treat my multiple aches (physical and emotional pains). I allowed myself to spend this "out of time" moments in her green and turquoise cocoon. I am now feeling cured but I will go back to her  and I highly recommend her."
"I have started acupuncture with Nathalie because of my frequent migraines and no benefits with the medical treatments available. After some sessions I already noticed great improvement with less frequent and milder headaches, and great energy every each session. I moved from acute headaches every 10 days to 1 every 3 weeks and later to once every month. I needed 4 sessions in a raw once a week to get this great result.  I really appreciate the service and the great energy she has, as well as the advice she gives for alternative treatments for every day ailments."
"My wife got some Chair Massage at work and recommended me Nathalie as I was suffering from severe tendinitis in my calves. I, in fact, had pain created by regular running sessions and high sport practise. I could physically feel two balls on my calves and was not able to walk nornmally as I visited Nathalie. I received the massage and acupuncture session from Nathalie and the day after, as I woke up, the balls were not there any more. I started to practise spinning and skating just afterwards without feelin any pain. The following week I visited Nathalie and I arrived there walking absolutely normally and I could not feel neither the balls or the pain any more. All this after one session only! I decided to go for a third session for the relaxing and health preventive effects ."
Aculifting: anti-aging acupuncture treatment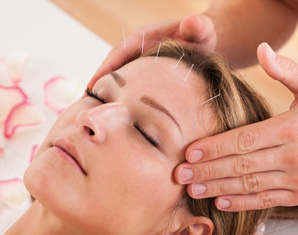 Rejuvenating  in a perfectly natural way with a firmer and brighter face, this is what the acupuncture lift offers! The skin regains radiance, elasticity and firmness.
What is aculifting?
This is the favourite facelift of American stars. It involves putting needles on the face very quickly to cause muscle contractions of the face. The needles are thinner than those used in traditional acupuncture. It boosts the production of collagen and elastin.
From the age of 25, the body reduces its collagen production. After 40 years, the decrease is much more significant, up to 1% per year. At age 70, the loss of collagen is 30%.
Aculifting stimulates microcirculation and cellular vitality. It reduces bags under the eyes, wrinkles and fine lines, it brings fresh blood.
Once your collagen and elastin productions are "restarted" (improvements noticed after 1-3 sessions already), the skin is going to get better in between the sessions and still many years after the beginning of the treatment.
Work & Events Massage unique concept
 One session is composed by 3 phases:
             – Phase 1: * Acupressure massage 
             – Phase 2:  Face needling
             – Phase 3:  Application of anti-aging essential oils (if tolerated)
*Acupressure massage on the face
By stimulating the face on specific anti-aging acupuncture points, your skin receives a complete care. Each point corresponding to an internal organ, the general state of your body will also benefit. This massage thus prepares the skin in depth, the effects of acupuncture care succeeding, it will be all the more optimized.
The benefits of aculifting
Positive results evolving over the sessions: by relaunching collagen production, your organism continues to work between sessions
Perfectly natural: no injection of products, no surgery, so without any side effects
 Works the dermis in depth unlike creams that act only at the superficial of the skin
Suitable for all: works on the already marked faces or in prevention from 25 years to delay the appearance of wrinkles and the first signs of muscle relaxation
Also significantly improves skin problems such as acne, rosacea, etc.
Like the hands and feet, the face has many acupuncture points corresponding to the internal organs. Your general condition will therefore benefit
Cheaper than the usual esthetic treatments
Frequency
Depends on the condition of the patient's skin and age.
On average: 4 to 8 sessions are recommended 7-14 days apart then 1 session every 3-6 months
Duration
45 minutes (first session 1 hour)
Rates
CHF 130 .- / session