An original concept of acupuncture in my practise in Pampigny
(12 min. North of Morges, Vaud)
Would you like to treat your ailments while relaxing?
The offer Massage-Acupuncture is designed for you!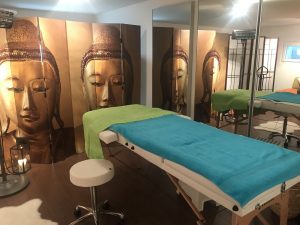 Using the acupuncture points since 2006 while practising Shiatsu Massage within companies, I also have been lucky to be trained by a master in acupuncture who studied the Traditional Chinese Acupuncture for 5 years in China. opened a practise and found that the results were not sufficient and too slow. He then decided to travel worlwide to meet the most famous acupuncture therapists who shared "their own recipes" with him. The technique used is thus fast and very efficient. Don't be scared by the needles, it is not painful!
Acupuncture is an old Chinese Medecine that consists in stimulating specific points to let the energetic flow circulate freely which will lead to healing.
What does acupuncture treat? Here are some examples of the most encountered pathologies
Migraines, headaches,
Backaches (neck, lower back)
Tobacco addiction
Sleeping problems (insomnia and somnolence)
Anxiety crisis
Digestive problems such as burning, diarrheas, etc
Knee problems
Tendinits
Epicondylitis (tennis elbow)
Fatigue
Stress
Shoulder problems
Menaupause troubles (flashes, sleeeplessness, etc.)
Acouphenes
Side affects of chimiotherapy, etc.
Your program…
Whole relaxing body massage with oils 5-10 minutes
Needling in a relaxing atmosphere (diffusion of essential oils, relaxing music)
Price CHF 120.- (duration 1 hour)